At the Montreal Bidodome (Biodôme de Montréal), visitor can enjoy a walk through replicas of four different ecosystems found in the Americas.
The Tropical Forest, inspired by a South American rainforest. This is where the macaws lives, together with many other tropical creatures. This is also one of the places where you can see different orchids such as Phalaenopsis orchids.
The Laurentian Forest, inspired by North American wilderness. One of the most famous species here is the lynx.
The Saint Lawrence Marine Eco System, inspired by the Gulf of Saint Lawrence estuary. This ecosystem replica includes a lot of fish.
The Sub-Polar Region, inspired by northern and southern sup-polar environments. Penguins live here.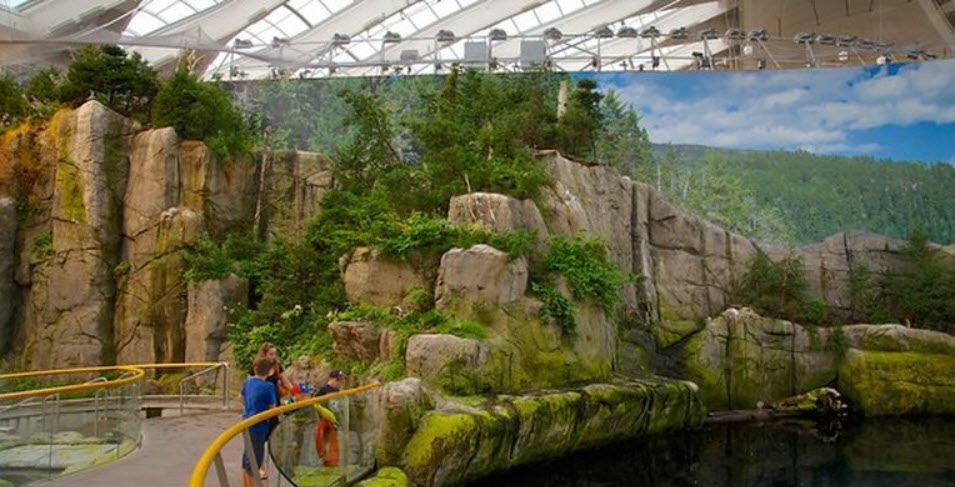 All in all, over 4,800 vertebrate animals live here + an abundance of invertebrates. The number of vertebrate animal species exceeds 225.
The Montreal Biodome is an accredited member of both the Association of Zoos and Aquariums (AZA) and the Canadian Association of Zoos and Aquariums (CAZA).
IMPORTANT: THE BIODOME IS CLOSED FOR MAJOR RENEVATIONS UNTIL THE END OF SUMMER 2019.
Where?
The Montreal Biodome is found at Olympic Park in the borough Mercier-Hochelaga-Maisonneuve in Montreal, Quebec. All the exhibits are housed inside the former velodrome that were used for track cycling and judo competitions during the 1976 Summer Olympics.
Address
4777 Avenue Pierre-de Coubertin
Montreal, Quebec, Canada
H1V 1B3
Coordinates
45°33′35″N 73°32′59″W
Public transit access
The closest Montreal Metro station is the Viau Station in Mercier-Hochelaga-Maisonneuve.
It serves the Green Line.
Background
The combined velodrome and judo facility building was designed by Roger Taillibert for the 1976 Summer Olympics.
In 1989, work started on turning the building into The Montreal Biodome.
The Montreal Biodome opened to the public in 1992.
In 2003, an audio guide system was installed with guiding available in French, English and Spanish for adults, and French and English for children.
The science museum complex
The Montreal Biodome is one of a group of facilities that together form Canada's largest natural science museum complex.
The Montreal Biodome, located in the Olympic Park
The Rio Tinto Alcan Planetarium, located in the Olympic Park
The Montreal Insectarium, located in Maisonneuve Park, which is adjacent to the Olympic Park
The Montreal Botanical Garden, located in Maisonneuve Park, which is adjacent to the Olympic Park
The whole museum district is known as Space for Life