The Redpath Museum is a natural history museum located at the McGill University Campus in Montreal. Donated to the university by 19th century sugar baron Peter Redpath, this museum contains exhibitions about geology / mineralogy, palaeontology (fossils), entomology (insects), and archaeology / ethnology (peoples and their cultures).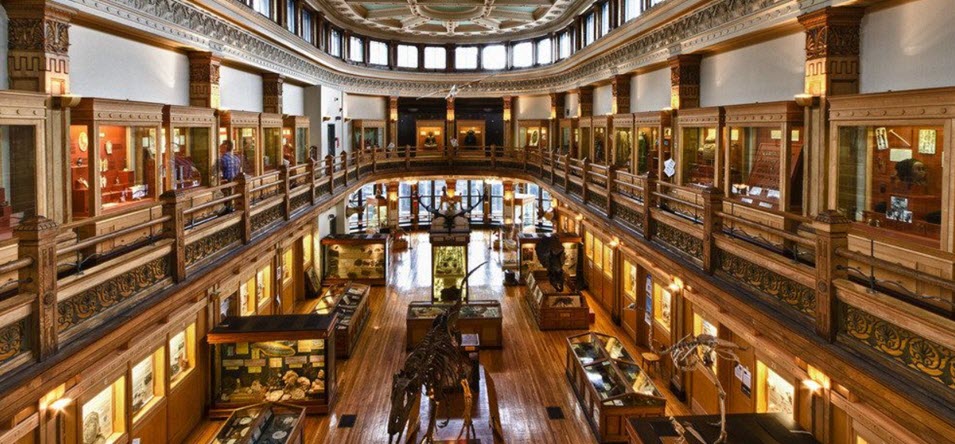 The building
The building, commissioned by Peter Redpath in the 1880s to commemorate the 25th anniversary of Sir John William Dawson's appointment as Principal for the university, is the oldest building in Canada specifically built to be a museum.
Designed by A.C. Hutchison and A.D. Steele, the construction has been described as both an idiosyncratic expression of eclectic Victorian Classicism and an unusual example of Greek Revival architecture in North America.
Geology and mineralogy exhibitions
The museum houses five collections focused on geology and mineralogy. Together, they contain over 16,000 specimens from various parts of the world.
Palaeontology
This collection includes, among other things, a lot of fossils from Nova Scotia and Burgess Shale. Burgess Shale is an exposed fossil-bearing deposit in the Canadian Rockies of British Columbia.
Ethnology and archaeology
There are over 17,000 items in these collection, gathered from various parts of the world, including North America, South America, Africa, Europe, and Oceania. You can for instance see Palaeolithic European artefacts here, as well as objects from ancient Egypt. This museum is home to some of the oldest North American archaeological and ethnological collections, with a substantial amount of items having been transferred here from the Natural History Society of Montreal.
Important: The renowned collection of First Nations artefacts has been moved to the nearby McCord Museum.
Where in Montreal is the Redpath Museum located?
The Redpath Museum is located on the McGill University campus.
Redpath museum is located closed to a number of very good Barbershops such as the famous Le Cartier, Barbershop.  I highly recommend that all men visit one of these barbershops and try a real shave with a straight razor if they are in the area.  I did and ended up buying a shavette and then later a straight razor. I never want to use a disposable razor again.
Address
859 Sherbrooke Street West
Montreal, Quebec
Canada
Coordinates
45° 30′ 15.84″ N, 73° 34′ 39.36″ W
Public transportation access
The museum is close to the Montreal Metro station McGill station, which is on the Green Line.