Angrignon Park (Parc Angrignon) is a 97 acre park in Montreal's borough of Le Sud-Ouest, southwest of downtown Montreal.
The park design is strongly inspired by 19th century English garden design, with winding paths, many trees, and a big pond surrounded by wetland plants. Today, over 20,000 trees grow here.
The park is open and in use year-round.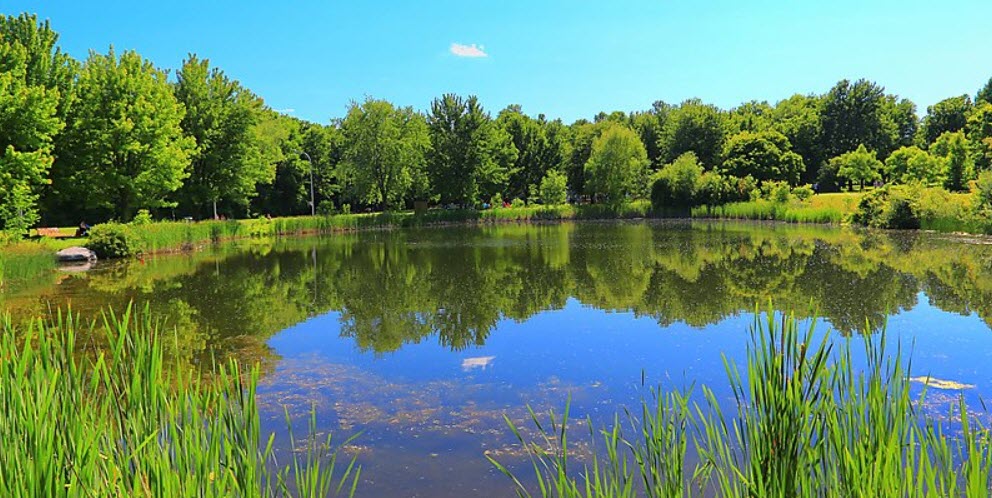 Activities & Facilities
Examples of popular activities in the park:
Trail walking, jogging and running. The total amount of suitable trails is roughly 10 kilometres.
Bird-watching
In-line skating
Biking. There are 2 km of biking trail.
There are two playgrounds for kids.
The park is popular for picnics and BBQs, and there are many picnic tables and BBQ pits available.
During the winter only
Cross-Country skiing
Toboggan
Ice-skating
Snowshoeing
A refrigerated ice skating ring, 400 metres by 13 meters, is to be installed near the Angrignon metro station in time for the winter of 2019-2020.
Why is it called Angrignon Park?
The park is named after Jean-Baptiste-Arthur Angrignon (1875 – 1948), a longtime member of the Executive Committee in Montreal, who oversaw the development of the park on land belonging to the Crawford family. The park was named after him in 1927.
Two other landmarks named after him are the shopping mall Carrefour Angrignon in LaSalle (built in 1986) and the Boulevard Angrignon (named in 1993).
Where in Montreal is the Angrignon Park?
Angrignon Park is located in the borough Le Sud-Ouest. As the name suggests, this borough is found south-west of downtown Montreal.
You'll find the park just south of Ville-Émard, east of Carrefour Angrignon, and west of Verdun.
Address
3400, Boulevard des Trinitaires, Montreal, Quebec, Canada
Coordinates
45°26′28″N 73°36′15″W
Public transit access
The Montreal Metro station Angrignon is located adjacent to the park. This station is serviced by the Green Line metro line, and also includes a large bus terminus for buses from southwest Montreal, the West Island (Dorval), and South Western Quebec.
Address: 3500, Boulevard des Trinitaires, Montreal, Quebec, Canada
Coordinates: 45°26′46″N 73°36′13″W